Hi, welcome to Ro-Kyu-Bu Wiki! Thanks for your edit to the Hina page. If you need help, read through our help pages or contact a local admin. If there are no active admins here, stop by Community Central and check out our forums.
Looking for live help? Then join us for an upcoming webinar to chat with staff and other Wikia editors. You can also check our Staff blog to keep up-to-date with the latest news and events around Wikia. Lastly, check out the Wikia Video Library, where you can find premium licensed videos to add to the wiki.
All of these links are a great way to start exploring Wikia.
Happy editing, Sarah Manley
(help forum | blog)
Re: Template improve
Edit
See the Keishin girls team section for more details.
In the upcoming second season of the anime, a new set of 5 players will be introduced, whom I am planning to add in this Wiki. Kagetsu was already introduced in Episode 9, and it was stated in the Light Novels that she would be the back-up Center for Airi. So she gets the number 9.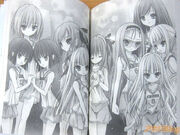 The four other new players are as follows: the French transfer student Mimi Balguerie (10), Natsuhi's twin sisters Tsubaki Takenaka (11) and Hiiragi Takenaka (12), and Saki's rival Masami Fujii (13).
Mimi will more likely be the back-up point guard, the Takenaka twins will be the back-up wing players, and Masami will be the back-up Power Forward and long-range shooting specialist (since there is no 3-point line in mini-basketball).
The picture on the right is the full 10-person Keishin girls team in their official tournament uniforms.
Thank you. Judasmartel (talk) 05:43, May 22, 2013 (UTC)