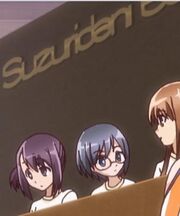 The Suzuridani Academy Basketball Team, also known as the Suzuridani girls team, is the main antagonist team in the Ro-Kyu-Bu! series. In the final three episodes of each season, the main team has encountered the Keishin girls team and won each one.
They are coached by Nobidome sisters Manaka and Hatsue. They have at least 15 members, including 10 regular players and at least 5 reserve players.
In Episode 11, it is mentioned by Tomoka that their captain's name is Miyu, who may possibly be the Andrias Japonicus girl Subaru encountered in Episode 10.
Team Roster
Edit
Regular Players
Edit
Reserve Players (Ro-Kyu-Bu!)Edit
Individuals
Edit
Training Camp
Edit
Suzuridani vs. Keishin (26-25)
Tournament Matches
Edit
Suzuridani Team B vs. Keishin 6th grade team (18-30, ForM Tournament Final)
Suzuridani vs. Keishin, (51-50 [OT], Prefectural Tournament Round of 16)