Subaru Hasegawa

Name in Japanese
長谷川 昴
Romaji Translation
Hasegawa Subaru
Nickname/s
Subarun
Onii-chan
Voice Actor (Japanese)
Yūki Kaji
Personal Info
Gender
Male
Birthday
October 11th
Class
1st grade, 3rd group
Position
Head Coach
Height
172 cm (5'8")
Blood Type
A
Media Appearances
Anime Debut
Here Comes an Elementary School Student! Yay! Yay! Yay!

Subaru Hasegawa (長谷川 昴, Hasegawa Subaru?) is the main protagonist and a freshman from Nashiba High School who is tasked by his aunt Mihoshi (the sister of his mother Nayu) to coach an all female sixth grade school basketball team.
He has been nicknamed several things including Subarun[1] and Onii-chan.
Character Overview
Edit
AbilitiesEdit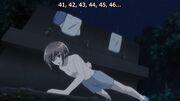 He once made 10 free throws in a row in the arcade.
He is able to do 46 one-arm push-ups. He could have done more if only a certain Andrias Japonicus girl did not disturb his exercise session.
As a player, he led his historically winless middle school team to the prefectural championship, where they placed second. This fact alone speaks volumes of his basketball skills and abilities, making him suitable for the coaching job at Keishin.
Currently, his school's basketball club had its activities suspended after its team captain got himself involved in a scandal. He reluctantly accepts Mihoshi's offer for him to train the Keishin girls basketball team for only three days initially, until he learns that the club is at the brink of being disbanded without his help and he realizes how important it is to Tomoka and her friends. He seems to have feelings for Tomoka.
PersonalityEdit
In the first couple of episodes, both his aunt and his friend refer to a type of "gang" that Subaru's basketball club is referred to as, based on the misdeeds of their old coach who was fired for certain things he did involving female players.
Beginning with the criticism of a jealous male elementary school basketball player and reinforced by Subaru's friend, this takes a twist based on Subaru's own choice to coach a female team.
His last name (長谷川) roughly means "the Long Valley's River", and his first name (昴 - Subaru) is named after a star - Pleiades, a star in the Twenty-Eight Mansions (二十八宿).

Interestingly, it is the name of the star which Tomoka wished to see in Winter. It is highly likely that her feelings for Subaru played a factor for her affliation to Pleiades star.
References
Edit