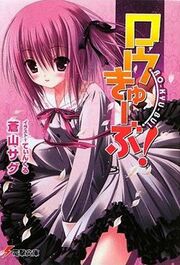 Subaru Hasegawa: "まったく、小学生は最高だぜ!!"
Ro-Kyu-Bu! (ロウきゅーぶ!?) is a Japanese sports comedy series. Written by Sagu Aoyama, with Tinkle/Tinkerbell (てぃんくる) as character designer(s) and illustrator(s). Originally a long-running light novel series, it expanded into anime adaptation, manga adaptation, video games for PlayStation Portable and PlayStation Vita, also promotional products such as action figures, after reaching popularity.
Synopsis
Edit
Subaru Hasegawa, a promising amateur basketball player, meets a major setback in his life — one-year suspension of his high school's basketball club/team since the captain elopes with adviser teacher's daughter, who turns out to be an elementary schoolgirl. Handling this downturn badly, Subaru decides to quit basketball career for good, but soon is given (more precisely, forced to accept via being blackmailed by his aunt) a temporary post of being the coach to a ragtag basketball team consisted by elementary schoolgirls, which he accepts reluctantly. Then his life, as well as those girls', change forever...
Original Light Novel
Edit
The original light novel is published under ASCII Media Works's Dengeki Bunko imprint, releasing 15 volumes from February 2009 to July 2015,  as well as a couple of spin-off.
Anime Adaption
Edit
A 12-episode (with an OVA as extra episode) anime with the same title of light novel, which generally covers events in first volume to sixth volume, produced by Project No.9 and Studio Blanc, was aired between July and September of 2011. A 12-episode second season titled "Ro-Kyu-Bu! SS", which generally covers events after sixth volume of light novel, produced solely by Project No.9, was aired between July and September of 2013.
To distinguish itself from original light novel, the anime adaptation altered some non-fundamental parts of main story. And due to the "12/13-episode for one season" pattern, which is now a implicit rule in Japanese animation industry, many contents in original light novel are cut in anime adaptation.
Manga Adaption
Edit
Video Games
Edit
Unfortunately, the main story of Ro-Kyu-Bu! ends in a rather lackluster way, instead of having a "Good Ending/Happy Ending", despite being a "harem" story like those in many other Japanese stuff, which always end in the protagonist coming out on top, both in career and love, with his harem.
To date, the only "official" foreign translation of the light novel is in Traditional Chinese, published in Taiwan.
By the reason above, most of foreign audiences' first impressions of Ro-Kyu-Bu! came from anime adaption, especially in Europe and America.