The Keishin Girls Basketball Team is the protagonist team in the Ro-Kyu-Bu! anime series. Because the focus of the series is on girls' basketball, they are later referred to as simply Keishin Academy Basketball Team.
Team Roster
Edit
There are no players on the team with jersey numbers 1-3, 14-99, and 00 because jersey numbering in this series follows the conventions set forth until 2015 by the International Basketball Federation (FIBA), the international governing body for basketball.
Although the Takenaka twins Tsubaki and Hiiragi are listed as Power Forward and Point Guard, respectively, they can actually switch positions during matches to confuse their opponents.
UnnumberedEdit
The girls only have numbers taped to the backs of their shirts, unlike the boys who have them on both front and back. So their numbers are only visible when they are not facing the screen directly.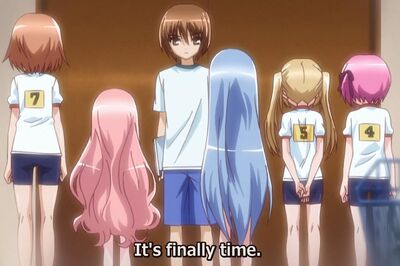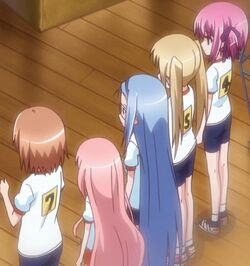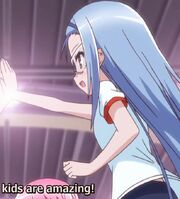 Hinata (pink hair) and Saki (blue hair) may be collectively covered by Number 6 of the boys team. They both have long hair so it is difficult to see their numbers.
One of the unknown numbers is probably 6. Based on how they stand in a lineup, both of them are in the 6 position.
Whoever is not 6 (assuming one is) would probably be 8, based on the numbers used in the boys' team. Number 3 would also fit, if the team numbering is sequential.
Commercial revelation Edit
Each episode's commercial break gives the statistics of several characters. The first 5 focus on the members of the team. They air in this order:
Episode 1 is Tomoka (4)
Episode 2 is Maho (5)
Episode 3 is Saki
Episode 4 is Airi (7)
Episode 5 is Hinata
Based on this order, it is strongly implied that Saki is Number 6 and it is Hinata who is Number 8.
This is also indicated by the order of the team's formation. The team was formed for Tomoka's benefit by Maho (who probably joined second, along with her). Saki was Maho's friend and would have been the next to join. Airi is older and probably joined before Hinata who is quite young.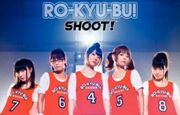 Live actor revelationEdit
Depictions of the team as dancers do clarify that the missing numbers are indeed 6 and 8.
The wearing of co-ordinated costumes for their coach Subaru Hasegawa (Mihoshi Takamura's nephew, and the team's advisor) is an ongoing theme. These include:
Practice Matches
Edit
Keishin 6th grade team vs. Keishin 5th grade team (30-18, Episode 14)
Keishin 6th grade team vs. Keishin 5th grade team (30-18, Episode 22)
Training Camp
Edit
Keishin vs. Suzuridani (25-26)
Exhibition Matches
Edit
Keishin girls team vs. Keishin boys team (33-32)
Keishin 6th grade team vs. Keishin 5th grade team (32-30, ForM Tournament Semifinal)
Keishin 6th grade team vs. Suzuridani Team B (30-18, ForM Tournament Final)
National Tournament
Edit
Keishin vs. Suzuridani (50-51 [OT], Prefectural Tournament Round of 16)