Ad blocker interference detected!
Wikia is a free-to-use site that makes money from advertising. We have a modified experience for viewers using ad blockers

Wikia is not accessible if you've made further modifications. Remove the custom ad blocker rule(s) and the page will load as expected.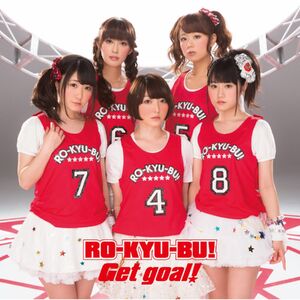 Get goal!
is the opening theme to the
Ro-Kyu-Bu! SS
anime,a dn second opening to the overall series. It is performed by the
RO-KYU-BU!
music unit, and the music was release on July 10th, 2013.
TV Version
Edit
Full Version
Edit
Okose! big halation
Ano hi no chikai wo hatasu tame
Hirake! new formation
Shisen no aizu yobiau
Kibou wo nosete hanate arch

Itsumo no doori ni ne …shinjiteru (makasete)
Mune ni te wo atete hikiyoseta heijoushin
Kanaetekita koto sorezore ga oboeteru
Ano hi hisoka ni naita koto mo

Onaji yume miteru nowa watashitachi dake ja nain da yo ne
Me no mae ni arawareta
Yuruganai hitomi hibana chirashit

Okose! big halation
Hiraku space he hashirikome
Daitan na formation
Arata na line umareru
Hibike! edification
Michi no kanousei tsukamitore!
Wazuka na sensation
Senobishiteita kinou he
Wakare wo tsugete hanate arch

Egao ga tookunaru yugure (doushita no?)
Kotoba ja nai mono ga afureru yo tomedonaku
Nani mo kataranai goal heto mukau ase
Sore ga kotae nano? To sagashita

Makenai! To tachitsukusu kimitachi mo onaji fuan no naka
Sorezore no kizuna heto
Furueru te nobashiatteirun da ne

Todoke! high connection
Kikoeteiru sa kokoro no koe
Kasaneta formation
Karamaru shisen yobiau
Koete! frustration
Hitori ja nai koto no tsuyosa de
Fukanzen na relation
Chiisana ippo de chikazuku
"Nakama" to chanto yoberu you ni

Doujou nashi!! intercept!!!
3 byou rule de Let's go!! (Let's go!!)
outside inside de kimechae! kimechae!
Gazen yaruki ga deta yo
Chira tsuku hiyakashi no look!! (no look!!)
Kawaiku haakii
Karen ni tap shot
Get goal!! Get goal!!

Kimete kakenukete
Line no mukou ni kimi ga ite
Miseta unification
Shouri no megami hohoemu!

Okose! big halation
Hiraku space he hashirikome
Daitan na formation
Arata na game hajimaru
Hibike! edification
Michi no kanousei tsukamitore!
Wazuka na sensation
Senobishiteita kinou he wakare wo tsugetara
Egao wo tsunagete
Yume mita basho he hanate arch