Ad blocker interference detected!
Wikia is a free-to-use site that makes money from advertising. We have a modified experience for viewers using ad blockers

Wikia is not accessible if you've made further modifications. Remove the custom ad blocker rule(s) and the page will load as expected.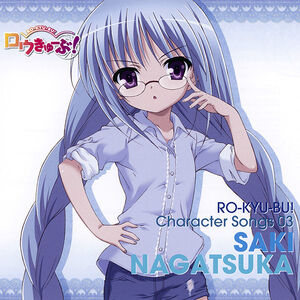 Can Be Perfect! (Canペキしなきゃ!, Can peki Shinakya!)?) is the first track of Ro-Kyu-Bu! Character Song 03 Minato Tomoka CD of the Ro-Kyu-Bu! anime. It is performed by Saki Nagatsuka's seiyuu, Yōko Hikasa.
English lyrics
Edit
Romaji lyrics
Edit
okkei! mitete ageru kara
jounetsu MAX moyashinasai
dame na toko mo yoi tokoro mo
motto zenbu zutto hikiukechae
tomodachi!!

keikaku tekikaku tekipaki tte kikaku
issho ni kanaetai
heisei chinchaku reisei tekitou saa-!

[kanpeki] shinakya
[kansei] shinakya
zettaiteki na ru―ru
saboccha dame yo shukudai ha misemasen
[sansen] shinasai
[sansei] shinasai
gouhouteki na ku―ru
wakatteru wa "ouchi ni kaeru. sore made ga afuta― suku―ru"

okkei! kimi ga nozomu nara
mongen OVER tsukiau yo
seikou demo shippai demo
chanto kyunto gutto ganbaru hito
daisuki!!

seikaku kyuukyoku matomannai miryoku
tokidoki kenka shina
kuusou tengai yuujou muchuu mou-!

[seichou] shitai-
[hyoushou] shitai-
renshuu shidai go―ru
chi―muwa―ku ha katte ni yattekuru
[sensei] shitai-
[sensei] onegai
kenkouteki na fauru
shitsumon desu "banana ha oyatsu ni fukumaretemasuka?"

Canpeki shinakya!
Cansei shinakya!
zettaiteki na ru―ru
saboccha dame yo shukudai ha misemasen
[sansen] shinasai
[sansei] shinasai
gouhouteki na ku―ru
fure―mu no mukougawa ma―ku suru sumairu

[kanpeki] shinakya
[kansei] shinakya
sekkyokuteki ga ru―ru
shitsumon desu "koi tte basuke ni fukumaretemasuka?"

Kanji lyrics
Edit
おっけい!見ててあげるから
情熱MAX燃やしなさい
ダメなとこも 良いところも
もっと ぜんぶ ずっと 引き受けちゃえ
トモダチ!

計画的確 デキパキって企画
いっしょに叶えたい
平成沈着×冷静適当 さあっ!

【完璧】しなきゃ
【完成】しなきゃ
絶対的なルール
サボっちゃダメよ 宿題は見せません
【参戦】しなさい
【賛成】しなさい
合法的なクール
わかってるわ「お家に帰る。それまでが部活(アフタースクール)」

おっけい!君が望むなら
門限OVER付き合うよ
成功でも 失敗でも
ちゃんと きゅんと ぐっと 頑張る人
ダイスキ!!

性格究極 まとまんない魅力
ときどき喧嘩しな
空想天外×友情夢中 もうっ!

【成長】したいっ
【表彰】したいっ
練習次第ゴール
チームワークは 勝手にやってくる
【先制】したいっ
【先生】おねがい
健康的なファウル
質問です「バナナはおやつに含まれてますか?」

Canペキしなきゃ!
Canセイしなきゃ!
絶対的ルール
サボっちゃダメよ 宿題は見せません
【参戦】しなさい
【賛成】しなさい
合法的なクール
眼鏡(フレーム)の向こう側 マークするスマイル

【完ぺき】しなきゃ!
【完せい】しなきゃ!
積極的がルール
質問です「恋ってバスケに含まれてますか?」

Listen now
Edit