Ad blocker interference detected!
Wikia is a free-to-use site that makes money from advertising. We have a modified experience for viewers using ad blockers

Wikia is not accessible if you've made further modifications. Remove the custom ad blocker rule(s) and the page will load as expected.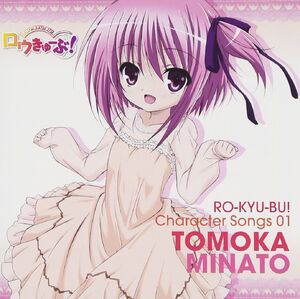 Self Love Shoooooter!
(

自主恋 Shoooooter!

Jishuukoi Shuuuuuta!) is the first track of Ro-Kyu-Bu! Character Song 01 Minato Tomoka CD of the Ro-Kyu-Bu! anime. It is performed by Tomoka Minato's seiyuu, Kana Kanazawa.
English lyrics
Edit
Romaji lyrics
Edit
watashi ga negau subete go―ru he to todoke!

hitoribocchi datta
chotto mae no watashi ha
sunao ni narenai komari kao no arisu
"tsugi ha nani shiyokka?"
kokoro ni toikaketemo
kotae ha naku tte yume ni mekakushi wo shita

hitoribocchi datta
chotto mae no watashi ha
sunao ni narenai komari kao no arisu
"tsugi ha nani shiyokka?"
kokoro ni toikaketemo
kotae ha naku tte yume ni mekakushi wo shita

ganbare. koe ga kikoeta
ganbare. minna ga ita
kitto yasashii atarashii
suteki na basho he to suro― in! shite

Shooooot! suru shunkan ha sora mo tobechaisou dayo
mokuhyou ga kimattara mou maketakunai kara
Shooooot! ha yume no hoop kitto takai hodo ii
jibun de kimetandamon maarui yabou janpin
jishuren eburidei tondeke My Dream

ima dekiru koto
ima shika dekinai koto
kidukasete kureta sono hitomi ni kansha
"koi janai yo" nante
awatete itta keredo
houbutsusen ha ha―to he rakka tochuu

arigato. kotae wo kureta
arigato. anata ga ita
nante itoshii attakai
tsuyoi sono ude ni suro― in! shite

Shooooot! suru shunkan ni douka namae wo yonde
hane tsuki no shu―zu de kiseki oki ni yuku wa
Shooooot! ha koi no hoop shippai shitatte ii
houkago taiikukan namida koraete janpin
"suki" toka mada ienai-

arigato. egao wo kureta
arigato. minna ga ita
sore ha ureshii hokorashii
mamoritai mono wo mitsukerareta hi

Shooooot! suru shunkan ha sora mo tobechaisou dayo
mokuhyou ga kimattara mou maketakunai kara
Shooooot! ha yume no hoop kitto takai hodo ii
jibun de kimetandamon maarui yabou janpin
jishuren eburidei mokkai try again

Kanji lyrics
Edit
わたしが願うすべて ゴールへと届け!

ひとりぼっちだった
ちょっと前のわたしは
素直になれない 困り顔のアリス
「次はなにしよっか?」
ココロに問いかけても
答はなくって 夢に目隠しをした

がんばれ。 声が聞こえた
がんばれ。 みんながいた
きっとやさしい 新しい
素敵な場所へと スローイン!して

Shooooot!する瞬間は 空も飛べちゃいそうだよ
目標が決まったら もう負けたくないから
Shooooot!は夢のhoop きっと高いほどいい
自分で決めたんだもん まあるい野望ジャンピン
自主練えぶりでぃ とんでけMy Dream

いまできること
いましかできないこと
気づかせてくれた その瞳に感謝
「初恋じゃないよ」なんて
慌てて言ったけれど
放物線は ハートへ落下途中

ありがと。 答えをくれた
ありがと。 あなたがいた
なんて愛しい あったかい
強いその腕に スローイン!して

Shooooot!する瞬間に どうか名前を呼んで
羽付きのシューズで キセキ置きにゆくわ
Shooooot!は恋のhoop 失敗したっていい
放課後体育館 涙こらえてジャンピン
「すき」とかまだ 言えないっ

ありがと。 笑顔をくれた
ありがと。 みんながいた
それは嬉しい 誇らしい
守りたいものを見つけられた日

Shooooot!する瞬間は 空も飛べちゃいそうだよ
目標が決まったら もう負けたくないから
Shooooot!は夢のhoop きっと高いほどいい
自分で決めたんだもん まあるい野望ジャンピン
自主恋えぶりでぃ もっかいtry again

Listen now
Edit